Amp Up Your Complete Look With Our Amazing Brow And Waxing Services
March 01, 2021
Looking for the perfect brows? Salon Naman may be just the place you need to get the brows you seek. You can get some of the best brows you have ever had when you walk through our doors. With excellent services and talented technicians, you will love the results we offer! But before you come in, it is best that you understand everything about our services, so here is what you can expect from a brow appointment with Salon Naman. 
Brow Clean Up
Brow clean-up is a service that focuses on primarily cleaning up the brow area. All the stray and unkempt hairs are tamed and trimmed, so you can avoid a wild and bushy brow. Sparser areas will also be filled in with a brow pencil, and then they can be brushed down so your brows look clean, tidy, and maintained. 
Brow Shaping
Brow shaping is where the brow is properly shaped to the proportions of the face. There is a particular technique known as the golden ratio used to make brows look perfect, and fit the face. There are three measurements used to ensure that the shape fits each individual person's bone structure. Your brows are outlined, trimmed, and made to look perfect for your face. This is a personalized process because everyone's 'golden ratio' is different so this offers the perfect balance and proportion to your face. You can enjoy the brows best suited for you!
Brow Tinting
A brow tint is basically, applying semi-permanent color and dye to add shape, definition, and overall enhance the look of your brows. This is especially beneficial to anyone with thinner, finer brows because the tinting gives a more full effect. The dye should match your natural color as closely as possible as well, while still giving you an accentuated brow. They take about twenty minutes give or take, depending on your technician. Consulting with a specialist is the first step, so you can determine the precise look that you are going for. Then the area will be prepped for tinting, and the dye applied. After your appointment is when the color will be the most prominent. 
Anyone can get brow tinting too! It does not matter your skin type or tone, or the shade of your brows- even light-colored brows like blonde, gray, and white are able to be tinted. The lighter the color the bigger the challenge, but it is absolutely doable and is sure to turn out beautifully.
Those who may want the treatment are people with light, thin brows, people who have brows that don't match their hair color or even people who simply want to reduce the time they take on their makeup each day. And at under ten dollars, this procedure is also easily affordable!
How Often To Get Brows Waxed or Tinted
When you plan on starting to get your brows done you should know how often you should get them done. For the best results, you should try to come in every about once each month to get your brows waxed, give or take a week. When you are getting your brows tinted, this can vary depending on how well you care for your brows- but it is also safe to schedule an appointment every 4 weeks. 
At Home Brow Care
When you get your brows tinted, you want to wait a bit before you wash your face again or you risk rinsing off pigment. But don't worry- you will only need to wait about 12 hours. One of the biggest concerns, when you tint your brows, is chlorinated water, so if you swim often you may see your brows fading more quickly. Avoiding brushing them too much can also be helpful in maintaining your look for longer. Instead of constantly putting them back into place, shape them and secure them with a brow gel.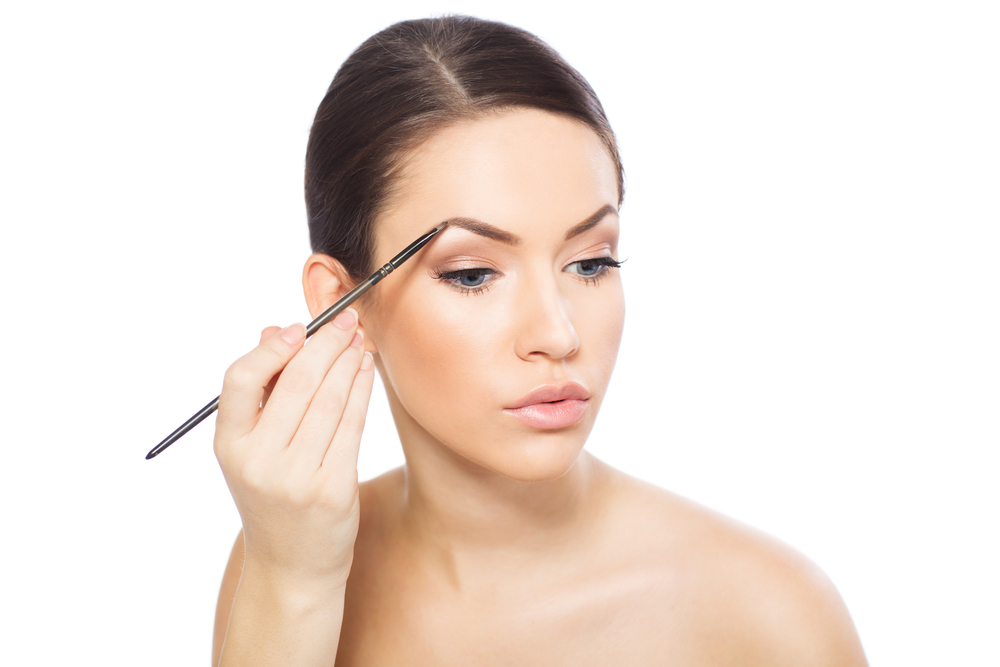 About Nufree Nudesse
Nufree Nudesse is the product we use to shape the brows for our waxing services. It does the job of wax and never sticks to the skin. It's completely safe for the entire body as well, due to being botanical. This self-preserving product is clean and free of any germs, made in the USA, and is even considered vegan.
Products To Keep Brows Looking Sharp
The Mirabella Brow Sharpener and Brow Pencil are great products to try to keep your brows sleek and clean, and we use Mirabella products in our salon. We love Mirabella makeup because they're free of things like talc and parabens- infused generously with vitamins and minerals for your skin. So you can get something good from your make-up. 
Who Is Eligible For Brow Waxing Services?
Unfortunately, not everyone will be eligible for a brow waxing service. If you've recently had a tan or sunburn within two weeks of planning for the service, you should postpone. If you have had professional facials or a chemical peel as well, or have used medications that target the skin and make it sensitive you should avoid
If you want the perfect brows, come to Salon Naman where our expert brow technicians can start you off right. You'll find us at 1445 Riverchase Blvd. Suite 104 in Rock Hill, SC. Schedule a consultation online or call (803) 327-9242 to reserve an appointment.