Best Hair Colors to Enhance Your Best Facial Features and Diminish Flaws
May 01, 2021
Did you know that hair color can be strategic? We often think about choosing a hair color that we really like personally, one that makes a bold statement, or one that is one of the season's top trends. But your Salon Naman Color Café hair color can actually work to accent and enhance your best facial features – or diminish those flaws that you'd like to downplay. 
Everyone has unique features, and sometimes you'll want to play up a feature you love or play down one that you don't want people to notice. We all talk about how we can enhance or downplay features using makeup colors, and we can do the same thing with hair color! Here's how.
Enhancing or minimizing your face shape
Your face shape can affect your hairstyle choice because you may want to accentuate it or downplay it – for example, if you think it looks too long, you'll choose a style that makes your face appear shorter. The same thing works for hair color – it can accentuate or downplay the shape of your face. 
First, determine your face shape either by asking your Salon Naman hair colorist to evaluate it, or by pulling your hair back, looking in the mirror, and marking your face outline on the mirror with a removable marker.  Look at the shape and determine whether it's more like a circle, a square, a rectangle, an oval, or a heart shape. Keep in mind that you want to add lighter pieces where you want to make your hair look fuller and darker color to minimize the width of the style. 
Oval. A long, oval face looks best with light highlighting on the sides and adding a darker color to the top and ends, which helps your face look shorter and balanced. 
 
Heart-shaped. For a heart-shaped face, you'll want to avoid a dark color near your chin because that can make it look too narrow. Instead, add light highlights to that area to draw the eye out.  Add a darker level at the scalp area for a more rooted shadowed root effect. 
 
Round. A dark fringe around the face works great in creating the illusion of a more balanced oval shape.  Lowlights go well with a round face shape, but highlights can work as well. Try some lowlights at the top of your hairstyle, and only use highlights on the ends if you want your face to appear longer. 
 
Square or rectangle. Square and rectangular faces tend to be fairly symmetrical, so it's important to add highlights evenly all over to maintain this balance. Add highlights on the top of your hair with a square face to make it appear longer and no highlights on the top for a rectangle shape.  You really want to add some lighter pieces around the sides to give the appearance of a wider hairstyle for an overall more balanced shape.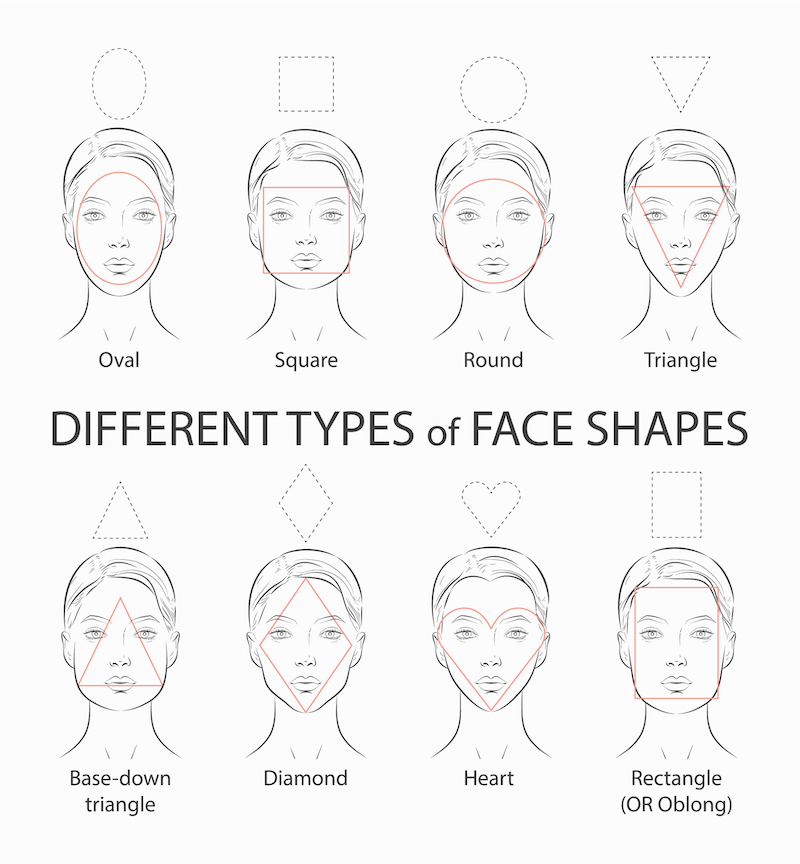 Complementing your skin tone and skin shade
For these three factors, choosing the best hair color means coordinating these three elements to find the most flattering color.
First, find your skin tone. Ask your Salon Naman stylist to assess your skin tone or look at the veins in your wrists to determine your skin tone yourself. If your veins appear blue, then your skin tone is cool. If green, your skin tone is warm. If they seem to be in the middle, your skin tone is neutral. 
Next, consider the lightness or darkness of your skin to match up the most flattering hair color for you!
Warm tones with dark skin look best with warm browns. 
Warm tones with light skin look best with golden blondes.
Warm tones with medium skin look great with copper or copper highlights.
 
Cool tones with dark skin look best with rich reds like burgundy or other shades of red with blue undertones. 
Cool tones with light skin look best with ash blonde.
Cool tones with medium skin look best with just about any cool shade that's close to your natural color. 
 
Just about any color works for neutral skin tones of any shade, so the best choice is to accentuate your eye color. 
Enhancing eye color
Using hair color and or makeup, you can accentuate your eye color perfectly to draw attention to your eyes.
Brown eyes/warm tones look incredible with deep, rich colors like dark red or dark brown. 
Brown eyes/cool skin tones look great with light browns and blonde undertones.
 
Blue eyes/warm tones look best with golden, honey, and chestnut shades of blonde or brunette.
Blue eyes/cool skin tones look best with burgundy or platinum blonde. 
 
Green eyes/warm skin tones look great with black, auburn reds, and strawberry blonde.
Green eyes/cool skin tones look fantastic with deep reds, copper, platinum blonde, or black. 
 
If you have hazel eyes, you can experiment with different colors to see which color they bring out in your eyes. Overall, choose warm shades for warm skin tones and cool shades for cool skin tones. 
Find your perfect color at the Salon Naman Color Café, where your expert Salon Naman colorist will help you choose just the right color, highlights, or special color treatment like a glaze or balayage highlights to give you the perfect look you want!
Love your hair color this spring! Make an appointment today at Salon Naman and let our expert colorists help you find the perfect color for you! You'll find us at 1445 Riverchase Blvd. Suite 104 in Rock Hill, SC. Schedule your hair color appointment online or call (803) 327-9242 to reserve your hair color reservation. To get the professional home hair care products you need for your new look, order from our online store for quick delivery or pick-up!