Don't Let Your Roots Show: Why Regular Hair Color is a Must-Do
April 01, 2021
It can be so much fun to try out new hair colors, especially in the spring when everything is so fresh and new. It is one of the fastest and easiest ways to transform your entire look. No matter what color you choose for your hair, the goal is typically to make it look like it is your natural hair color, and the one thing that will give away your secret every time is grown-out roots. So to keep your beauty secrets actually secret regular hair color appointments are a must-do. 
 
Hair Color Options
There are so many options when it comes to hair color. If you want to keep your base color but add depth and dimension you can do with hair highlights. If you like your current color but it has gone a bit brassy or ashy your stylist can fix your color with hair toner. If you only want to change your color for a little while you can opt for a temporary hair color that washes out, usually in 1-2 weeks. If you'd like your color to last about 4-6 weeks and gradually fade away then semi-permanent hair color is what you're looking for. And if you want long-lasting color permanent hair color is the way to go.
 
Hair Color Brands
One thing that you need to be aware of before you color your hair is that not all hair color brands are created equal. Here at Salon Naman, we believe in offering our clients only the best and that is why we offer Redken. Redken hair color is gentle on your hair but still produces intense, long-lasting color. If you want silky smooth strands with vibrant color, you want Redken.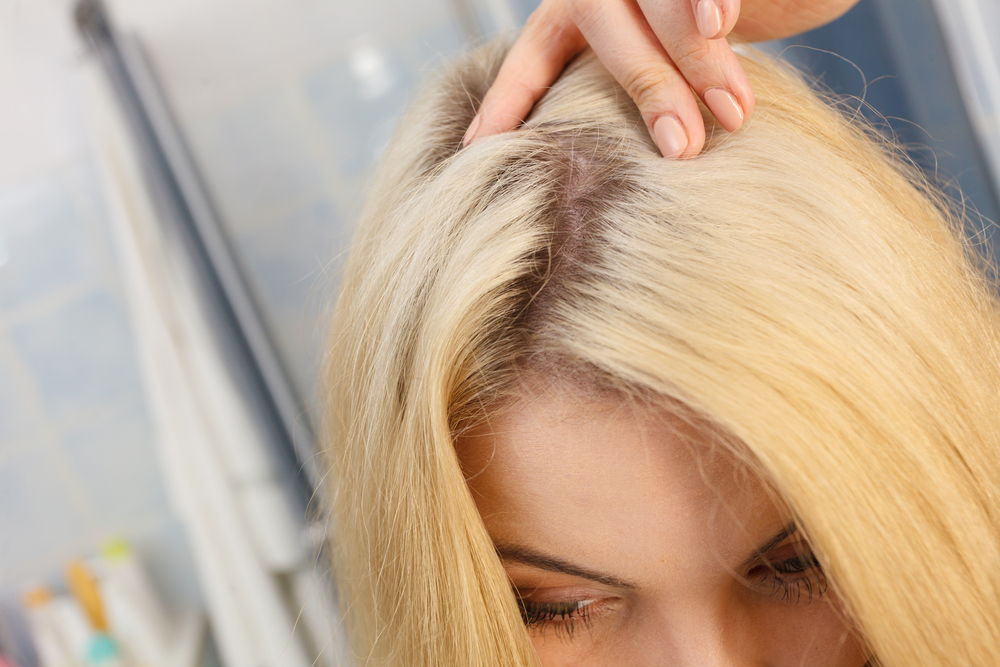 How Often To Touch Up Your Roots
When exactly you should touch up your roots varies from person to person because everyone's hair grows at its own rate. Most people's hair grows at a rate of about ½ inch per month so the general rule is a root touchup every 4-6 weeks, but you will need to pay attention to how your hair grows to determine your ideal touchup interval which will be just under 1 inch of new growth. The reason 4-6 weeks and under 1 inch of new growth is important is because the heat from your head helps hair dye on your roots to develop faster than on the rest of your hair, but that heat only reaches about 1 inch of the hair shaft. So if you wait longer you could end up with inconsistent color along your strands, even with a brand-new over-application of color.  Touch-ups every 4 weeks ensure your grey doesn't show.  
 
Tips To Hide Grown-Out Roots 
So what do you do when your roots are starting to show, but not enough for a touchup yet? If your roots are dark give dry shampoo a try. If you're blonde, a typically white powder dry shampoo will do just fine. For other colors look for a tinted dry shampoo that will help blend your roots with the rest of your hair. Just apply the dry shampoo to your roots only to help camouflage them. You can also hide roots by changing your part. Try an invisible zigzag part to keep your hair laying in the direction that you want without showing off those telltale roots. 
 
Tips To Keep Your Color From Fading
When you find a hair color that you love you want it to last so that you can enjoy it as long as possible. Not only that but added hair color is dull and really damages your image. There are some things that you can do at home to keep your color from fading between appointments. The first is to use less heat. The heat from the shower and styling tools damages the pigments that give your hair its color. So avoid heat styling whenever possible, and turn the heat down in the shower. To give your hair color a boost and help lock in the color consider getting a color glaze each month. It's also important to use the BEST hair color maintenance product for longer-lasting color, and we have them here at Salon Naman. Ask your stylist for a personalized home hair care regimen with products from our line of  Redken, Pureology, or Kerastase products.
 
Salon Namans Hair Color Club
If maintaining your color is important to you then you should become a Salon Naman Club Color VIP. This hair color club offers exclusive perks that will help you save while keeping your roots from showing and your color vibrant.  As a club VIP you will receive a complimentary glaze each month, optional color upgrades, discounts on haircare, makeup, and boutique items, and exclusive VIP goodies, perks, and deals. Stop in the salon to sign up today!
 
The expert colorists here at Salon Naman understand how important regular hair care is to keep your roots from showing. We are ready to serve you armed with the best products and techniques in the industry to ensure you get the absolute best hair color every time. You'll find us at 1445 Riverchase Blvd. Suite 104 in Rock Hill, SC. Schedule your consultation online or call (803) 327-9242 to reserve an appointment.