Embrace and Care for Your Natural Curls
April 01, 2021
Got naturally curly hair? Or have you recently had a texturing treatment to give you incredible curls? Either way, it's time to embrace those curls with specialized haircare and new trending curly hairstyles that will really get you noticed. 
Unfortunately, we've heard from plenty of clients that their curls make it hard for them to style. That doesn't have to be the case! Those same clients have walked out of Salon Naman smiling because they love their new style. 
There's a trick to caring for and styling curly hair – it has to be as healthy as possible. That means paying particular attention to hydrating as well as getting the right cut that works with your curls instead of against them. There's an art to cutting curly hair that's different from your standard haircut, and our expert stylists know how to get the best look from your curly hair. Here are a few examples of trending curly hairstyles for you to try:
Curly lob. Yes, the bob style is a great choice for curly hair! Although traditionally considered a straight-hair-only style, a blunt cut with curls is a style that's trending this year. Although the chin-length bob also works for curly hair, we recommend the lob – the long bob – to give a little extra weight for a great style. Try it as both a side part and middle part style to vary your look.
 
Layers. Layers work great for all types of hair, and they're trending high for spring 2022. Layers do something incredible for curls: they help activate them and make your texture even more dimensional. Layers for curls work for both long and shorter hair, intensifying the effect of your texture and giving you an incredible style.
 
The shag. The shag is a type of layered cut that was popular in the 70s, and it's making a huge comeback for 2022. It's modernized now with healthier hair and less frizz, which makes it a perfect look for naturally wavy or curly hair. The trick is superior haircare with regular professional conditioning treatments and home haircare with the best salon brands like Kerastase.
 
The pixie. Trendy and sophisticated, the pixie is a short, layered style with plenty of volume. Going with a pixie for curly hair is a great choice because it's an easy-care style that looks great for any occasion. 
 
Short, sculpted side. This look with definitely show off your personality. It's all about a small, shaved area on one side in the front, giving the illusion of pulled-back, side-swept hair. Most people who opt for this look add even more personality with a shaved-in graphic design to complement the style. 
Inspired? Stop into Salon Naman and let our expert stylists create a new cut that's perfect for you!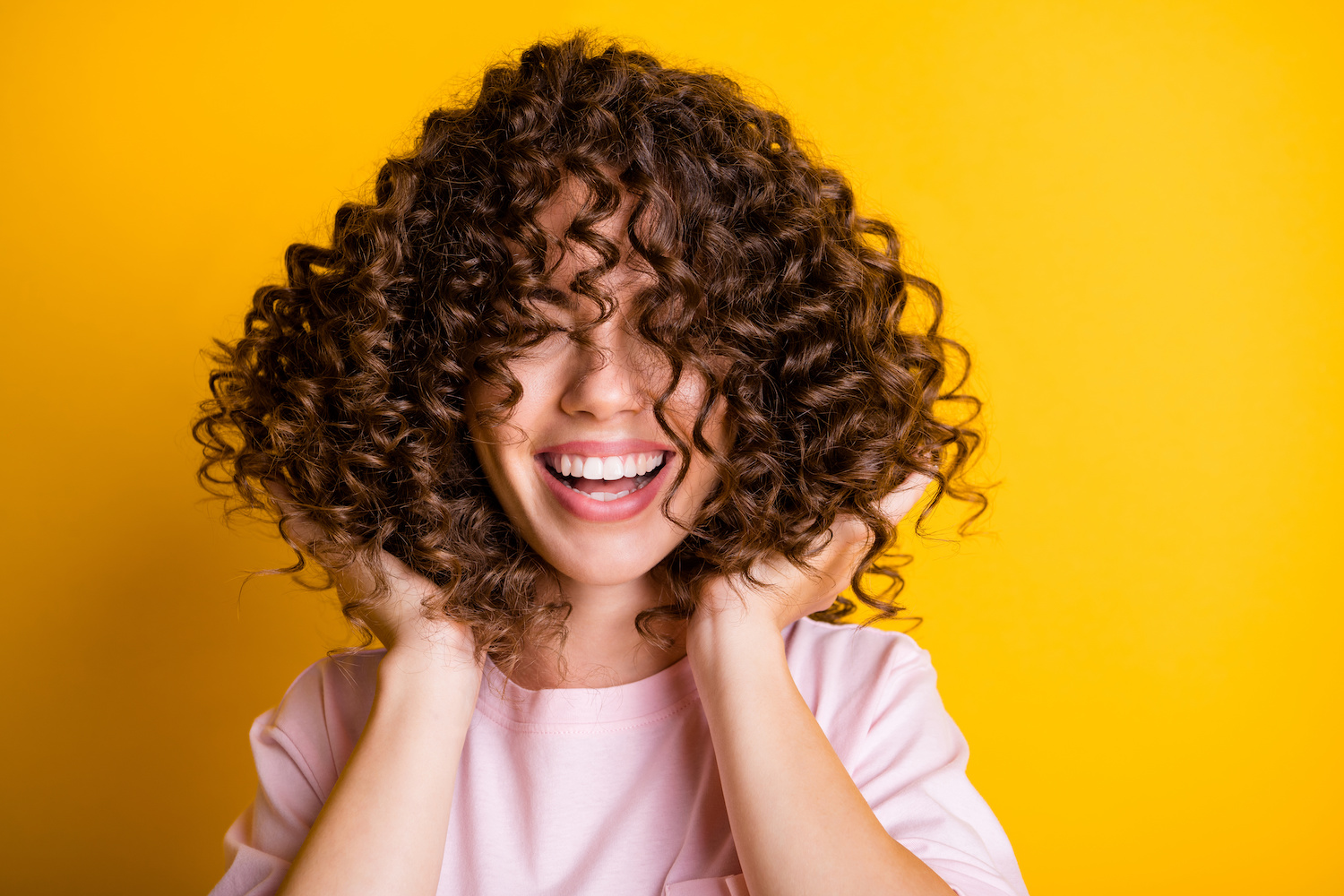 To avoid frizz and that dry look, it's crucial to give your hair special care when you embrace your curls. Frizz happens when hair is dry and damaged, so the secret to great-looking curly hair with no frizz and well-defined curls is quality hair care. 
Avoid heat. When you have curly hair, it's best to avoid styles that require excessive blow-drying and heated styling tool use. Fortunately, many of these trending cuts help make curly hair styling easy without the fuss of heated styling tools. Ask your Salon Naman stylist to create a look that you can air-dry most of the time and that requires a few touch-ups with the curling rod. If your favorite style just doesn't look the same without blow-drying, use a professional heat protectant product before styling like Kerastase Genesis Defense Thermique Blow Dry Primer.
 
Hydrate – then hydrate some more! Moisture is the crucial factor for well-defined, frizz-free curls. That means conditioning often, even on days that you don't shampoo your hair. It also means having your professional Salon Naman stylist give you regular deep conditioning treatments to keep your hair hydrated and healthy.
 
Shampoo infrequently. You don't need to shampoo often for healthy hair. In fact, shampooing too often can strip away natural oils that help your hair stay hydrated. Ask your Salon Naman stylist about the ideal shampoo schedule for your hair's needs. 
 
Use professional products. Choose only salon-trusted brands for your hair care and hair styling products. Kerastase's Curl Manifesto haircare products are made from proven, natural ingredients that keep your hair in its healthiest condition without the damaging ingredients you might find in drugstore brands. 
Embrace your curly hair this spring and summer! Make an appointment today at Salon Naman and let our expert stylists give you the curly hair look you'll love. You'll find us at 1445 Riverchase Blvd. Suite 104 in Rock Hill, SC. Schedule your hairstyling appointment online or call (803) 327-9242 to book your curly hair styling appointment. To get the professional home hair care products you need for your new style, shop online and order from our online store for quick delivery or pick-up!