Get Ready To Have The Most Gorgeous Shiny Blonde Hair
May 01, 2021
Gorgeous, shiny blonde hair is the dream of many. It can be difficult to achieve for some, especially if you were born with dark brunette hair, or at least it used to be. Our Redken Power Trio treatment can give anyone the beautiful blonde of their dreams all while keeping the integrity and health of your hair. This trio helps keep the integrity of the hair extra healthy from the inside out. You don't have to sacrifice the health of your strands to get your dream color anymore. 
 
What Is The Power Trio?
Our Power Trio color treatment is a hair spa treatment that gives you high-level blonde strands while keeping them healthy, and shiny. The treatment consists of three different treatments all rolled into one- Redken Lightener with Bonder, Redken Shades EQ Bonder, and Redken ABC Deep Conditioning Service. These three treatments work together to give you the blonde of your dreams while keeping your strands healthy, shiny, and strong.
 
Redken Lightener with Bonder 
Redken Lightener with Bonder can safely lift your hair color 8 levels while protecting the bonds within your hair that keep strands strong and healthy. After all, healthy hair is shiny hair. This lightener is designed with hair health in mind and works to improve elasticity and give you touchably smooth, shiny hair while taking your color to a higher level than you dreamed possible in a single session.
 
Redken Shades EQ Bonder
It also uses Redken Shades EQ Bonder to adjust the tone of your hair. Sometimes when your hair color is lifted you can have unwanted brassy or yellow tones. Shades EQ Bonder is a vegan demi-permanent hair color that not only tones your hair but works to strengthen and repair your strands as well. When your color is lifted to a very light level, the bonds inside your hair are damaged, but with the bonder in this toner, the damage is repaired to preserve the health of your gorgeous mane. 
 
Redken ABC Deep Conditioning Service
Redken's Acidic Bonding Concentrate Intensive Treatment is next-level bonding and strengthening conditioner with a concentrated bonding care complex for intensive strengthening and repair both inside and out. It's a secret weapon for damaged hair that can improve your hair's appearance and condition with just one use. It's used here at the salon following a bleach or color service to defend your strands against the potential damage caused by bleaching, coloring, and heat styling. Combine the ABC Intensive Treatment with Acidic Bonding Concentrate Shampoo and Conditioner at home and you'll have a recipe for healthier, shiner, stronger hair and color that lasts longer with less fading.
 
Trending Blonde Hair Colors For Summer 2023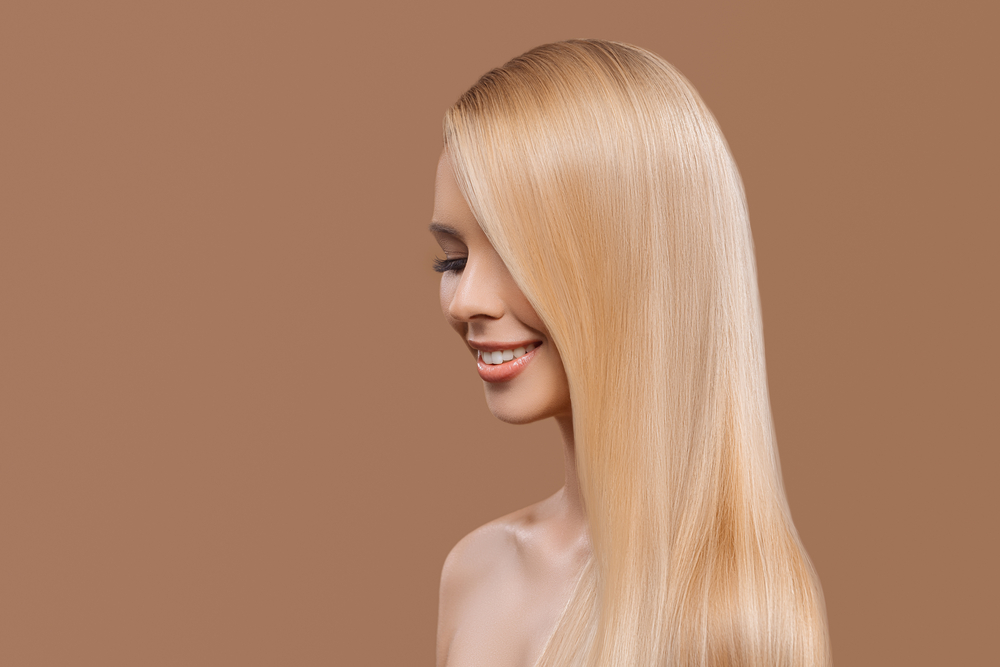 The trending blonde colors that are emerging for Summer 2023 are light and bright. Some of the shades of blonde you'll be seeing most in the upcoming season include: 
 
Champagne Blonde- This is a very light blonde that contains soft pink with delicate gold and a gentle kiss of pearl to make it glisten and glow. 
 
Naked Blonde- This one combines the most effortless hair colors to create one that embraces natural beauty.  It's the perfect mix of light brown, neutral blonde, light caramel, and honey blonde shades.
 
Frosted Cream- This is a light blonde with a log of dimension. It has the look of a natural, unprocessed blonde that is achieved by a summer in the sun. 
 
Buttercream Blonde- This is a medium light blonde with just a soft hint of sunny yellow that illuminates the hair and adds warmth and dimension. This color looks best with plenty of highlights and lowlights throughout. 
 
Peachy Rose Gold- This is a fun take on the popular rose gold. By adding the warmth of peach to the mix you get a soft, bright blonde color with just a hint of golden orange that is balanced with the cool pink of the rose. Truly a stunning hair color.
 
Strawberry Blonde- The soft reddish blonde tones of this color flatter fair skin and light eyes very well. With butter blonde highlights you'll have all the hues of a pale summer sunset. 
 
Keeping Blonde Hair Bright
There are a few things that you can do at home between appointments to keep your blonde bright longer. Start by shampooing your hair less often since this is what fades color the fastest. You may want to invest in a filter for your shower because minerals and additives in the water can affect your flaxen mane turning it brassy, green, or gray. Use only the Redken products that your stylist prescribes for your home care routine. Rinse with cool water to keep your cuticle closed and color locked in and protect your golden hair from the sun.
 
Our talented stylists care about the condition of your hair and can even help you know how to manage your hair at home and by using the right treatments can keep your hair in shape. Healthy hair is beautiful hair. Salon Naman loves giving guests a consultation to help them select the right hair color for their skin tone. Our stylists will give you a personalized hair care prescription too.
 
If you're ready to have the most gorgeous shiny blonde hair, come to Salon Naman where our expert colorists have the tools, tricks, and skills to create a beautiful one-of-a-kind blonde hair color just for you. You'll find us at 1445 Riverchase Blvd. Suite 104 in Rock Hill, SC. Reserve a consultation online or call (803) 327-9242 to reserve an appointment.