Money Piece Color Ideas That Are Seen Everywhere
December 01, 2021
One of the most endearing trends we've seen lately is the money piece – that gorgeous, face-framing strip of highlight color that really grabs attention. The trend started with a chunk of blonde highlights, but it's really erupted over the past year into a way to make your own personal statement by choosing your own color. Because it's become so unique and versatile, we expect the trend to continue well into 2022 – and you can make it your own with these suggestions for money piece color that will definitely make a personal style statement!
What is a money piece?
For those who want to update their look and make a personal statement without opting for a completely different hair color, the money piece is a great option. It's a hand-painted strip of hair color right in the front, on both sides of your face, that beautifully frames your face and accentuates your features. We've seen the money piece trend everywhere, with plenty of options that help make it unique each time. 
Why is the money piece style so popular now?
There are several reasons why you'll want to try this look. First of all, it's gorgeous, framing your face and showing off your unique color choice. Second, it's a way to update your existing hair color without going for a completely new color. Finally, it works really well for just about everyone with almost every hairstyle, so it's something almost anyone can try. 
While the money piece color style looks great when your hair is worn down, it also gives you the advantage of some interesting updo possibilities. As you sweep up your hair and twist it for an updo, the money piece color will swirl in for an interesting touch. This is especially great for your holiday style, since updos are so popular for formal events like holiday parties!
How wide is the money piece strip?
 
This part depends on your personal taste. You can go with a thick, chunky money piece or make it more subtle with a smaller strip of hair or by using a color that's not much different from your own hair color. 
What are some of the color options?
This is the fun part – there are a ton of different color options to choose from for your money piece hair color. Here are a few unique money piece colors that we've seen work beautifully: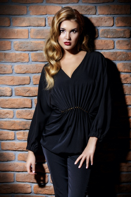 Warm butter blonde. This is one of the most popular colors for the money piece because its warm shade brightens up your look and gives you a beautiful face frame of light butter blonde. This looks great with a darker shade of blonde or just about any brunette color. 
Honey blonde. Honey blonde is a great shade for light browns, dark blondes, and even some redhead colors because it warms up your shade for a beautiful new look.
Copper ginger. Oh, how beautiful this looks against a gorgeous shade of red. The warm tone of the copper lightens up the rest of your hair for a great look. You can even use this against a brunette or blonde to add a little red to your color. 
Cool blonde. An ash tone blonde makes a great money piece for brunettes on the darker end of the spectrum. The cool tones help bring out the color for an ashy, mysterious glow. 
Chestnut brown. This shade is great for brunettes, giving you a gorgeous warm lift around the face to help bring out the shimmer in your hair color. 
Platinum. If your skin tone is cool, platinum makes for a stunning money piece choice. The bright platinum blonde around the front of your face gives you a stunning look that will continue to trend high throughout 2022. 
Fantasy colors. For the ultimate money piece statement, you might choose to go with a bold, bright look for your color choice. Pinks, blues, purples – just about any fantasy shade looks great because you'll choose your favorite color, so it's all about expressing your true self. 
At the Salon Naman color café, our expert colorists will help you decide on the perfect shade for your money piece color. Once you've got the color you love, we'll help you select the best products from the brands our Salon Naman colorists trust such as Kérastase®, Pureology®, and Redken®. Depending on your hair color needs, your colorist may suggest an Olaplex® upgrade for rich, vibrant color and soft, beautiful hair.
Want to try a unique money piece color for yourself? Make an appointment today at Salon Naman and our expert colorists will help you make a choice from the many options available that suit your personal style. Visit us at 1445 Riverchase Blvd. Suite 104 in Rock Hill, SC. Schedule your money piece color appointment online or call (803) 327-9242 to book your hair color appointment. And to get the professional home haircare products you need for your new look, order from our online store for quick delivery or pick-up!