The Trendiest Haircuts You'll See Anywhere in 2022!
June 01, 2021
Want a trendy new haircut this Summer? Maybe you've heard of the Octopus, one of the most popular looks this season. It's easy to try some of the most popular trending styles when you get some help from your Salon Naman professional stylist. Here are some of the top haircuts for 2022. 
The Octopus. That's right – the Octopus – it's a fun, sexy look that's trending right at the top this year! The Octopus is a gorgeous, layered look that's mostly a shag, but it's updated for 2022 by adding longer layers reminiscent of octopus tentacles. The result is a fabulous style that will look great with all your summer outfits!
The Blunt, Airy Bob. What's great about this trendy look is that it's flattering for just about anybody, regardless of your face shape or the texture of your hair. A blunt cut in any hair texture looks incredible, and the bob length takes off the weight of long hair while airing out your style. 
The French Shag. Layers are huge this season, and this pretty French-inspired style gives you light, elegant layers and soft, textured bangs that are perfect for a breezy summer hairstyle. 
The Bixie. The Bixie gives you the best of both worlds for some of the very best cuts – the pixie and the bob. As with other trendy styles this year, the Bixie is all about the layers, which give you the perfect blend of these two popular short hairstyles. 
The Layered Pixie. The classic layered pixie itself is trending very high this year as everyone embraces the easy-care styles of shorter haircuts. With lots of beautiful layers for dimension and depth, the layered pixie is a gorgeous look for 2022.
Mid-length Layers. If you prefer your hair a little longer, adding layers is a great way to change up your look this year. Invisible layers are popular this year because they give you the dimension and fullness you want without taking off too much length. 
The Shaggy Bob Retro. This 70s-inspired look is trending high this year, and we can see why. It's a mix of a classic bob look combined with layers to bring out your hair's volume and dimension!
Curtain Bangs. Not sure what kind of bangs to go with this season? We're still seeing curtain bangs trending high for 2022. Curtain bangs give you that long, dramatic sweeping look with a center part for a beautiful face-framing style. 
The Micro Bob. This is a shorter version of the bob, which gives you a super-chic look you'll love for 2022. Instead of hitting at the chin, this shorter cut lands higher, near the cheekbone. It's a great look for someone who loves short hair and the trendiest looks available!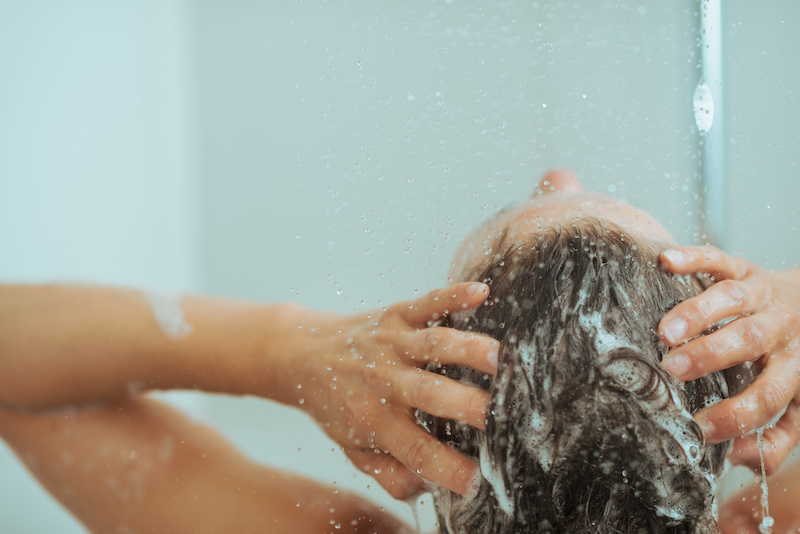 Once you've found the perfect haircut, the next step is keeping your style looking great with a professional haircare regimen. When hair looks dry or frizzy, even the most stylish cuts fall flat. The trick for great-looking hair is well hydrated, healthy strands that resist breakage and reflect light well for a healthy-looking shine. 
Thankfully, it's easy to keep your hair healthy-looking in-between visits to your Salon Naman stylist!
Shampoo less frequently. Your hair has its own natural oils that keep it from drying out, but shampooing daily can strip away those oils, leaving your hair vulnerable to breakage and dryness. Most of us shampoo too often. For most hair types, shampooing two or three times per week is all that's needed to keep your hair cleansed and healthy. 
 
Avoid heated styling tools without using our heat protective products.. Blow dryers, flat irons, and curling rods all use heat to dry your hair or shape it into the style you want. While that can give you a great look, using heated styling tools too often can do the opposite, leaving you with dry, dull hair that's prone to breakage. It's easy to choose an air-dry style in the summer when the weather is warmer, so ask your Salon Naman stylist about wash-and-go ideas for your new cut. When you do need to use a blow dryer or a heated styling tool, ask your Salon Naman stylist to recommend a professional heat protectant product.
 
Use professional products. The drugstore brands may seem cheap, but they can cost you in the long run if they contain harsh ingredients. Always use professional products from a trusted salon brand like Kerastase® or Redken® to keep your hair looking great. Your Salon Naman stylist will recommend the best products for your hair type and texture. 
Inspired to try one of the trendiest haircuts of 2022? Reserve an appointment today at Salon Naman and let our expert stylists help you choose the perfect look. You'll find us at 1445 Riverchase Blvd. Suite 104 in Rock Hill, SC. Schedule your haircut and hair styling appointment online or call (803) 327-9242 to reserve your haircut and styling reservation. To get the professional home haircare products you need for your new look, order from our online store for quick delivery or pick-up!