Get Started with Highlights to Add Dimension to Your Hair
July 01, 2021
With summer here, you may be thinking about doing a little extra sunbathing – not only for a tan, but also to lighten up a few strands of hair naturally in the sun. While both of these can look great, too much sun exposure can be a problem for both your skin and your hair. Is there a safer way to get a brighter, high dimension look for summer? Yes, there is – with highlights!
What are highlights?
You hear about highlights all the time in fashion magazines and from your Salon Naman stylist and colorist, but what exactly are they?
Simply put, highlights are lighter-colored strands of hair that make your hair look like it was naturally lightened by the sun, but without the extra sunbathing. With highlights, your professional Salon Naman colorist applies just the right touch of color to give your hair that extra dimension it needs. 
Are there different types of highlights?
There are all sorts of highlight styles, but here are some of the most popular:
All-over highlights. Many people choose all-over highlights to give hair that high-dimensional look that's trending this year. All-over highlights are usually a shade or two lighter than your natural color. 
Face-framing. These are those 'money piece' highlights we've heard about so much lately, but face-framing highlights for 2022 are a little bit different. The color is just a little more subtle and there's a difference in how many strands are highlighted. Face-framing highlights soften up your facial features and help blend in your hairstyle. 
Chunky. Chunky highlights are wider and usually have a starker contrast between your color and your highlights. Because of this, chunky highlights don't look natural, but they're a fun, unique way to add a trendy touch to your hair color and a great way to stand out. 
Babylights. Babylights are a softer version of highlights with just a hint of color. These can be the most natural-looking highlights because the look is so subtle, but it still adds a lot of interest and dimension to your hair color.
Peek-a-Boo. Peek-a-boo highlights give you a burst of unexpected color for a fun way to add more dimension to your hair. You can use a natural-looking color for a peek-a-boo highlight, but many people choose fun, festive colors like pinks, blues, and other shades for an attention-getting style. These can peep out from the underneath sections of hair.  Or just a couple of peek-a-boos on the sides is super cool too.
Ombre. Ombre is a hair color style that's a little different, starting with a darker color at the top and suddenly blending into a light color at the end. You can also get a reverse ombre, which is light at the top and dark at the end. The fun thing about ombre is that when you wear your hair up in an updo, the color differences twist together in interesting ways to make a gorgeous pattern.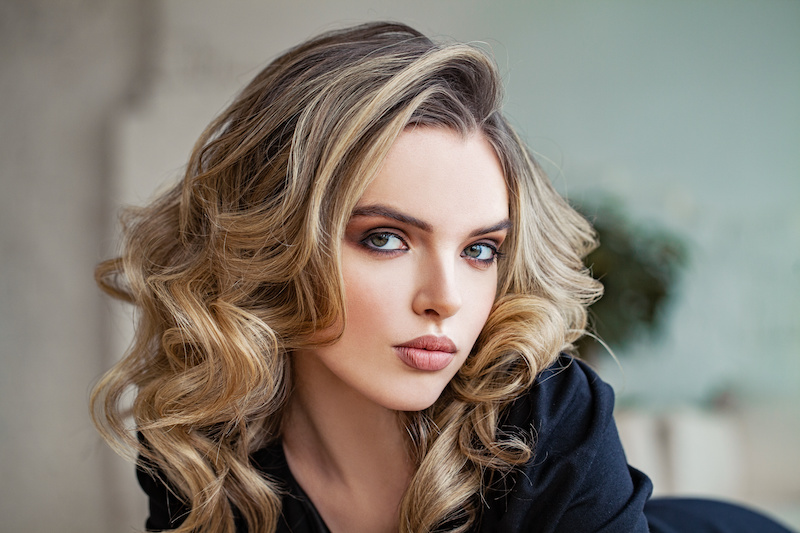 What about the different techniques for doing highlights? Does it matter which technique your Salon Naman colorist uses?
We're asked about the different highlighting techniques all the time here at Salon Naman. Simply put, the type of highlighting technique your Salon Naman colorist will use for your hair depends on the effect you want. 
Foils. Foils are a traditional way of creating highlights where the colorist wraps up the strands to be colored in foil to separate them from the rest of your hair. Generally speaking, foils create chunkier highlights that are more uniform, so they don't look as natural as some of the freehand techniques. 
 
Balayage. You've probably heard of balayage, but many people mistake it for hair color, rather than a hair highlighting technique. Balayage is a freehand technique that 'paints' the highlight color into your hair. The results tend to look more natural because the colorist can choose where to highlight to create the most natural-looking result. Balayage creates a personalized style that looks different for everyone, and highlights created with balayage usually grow out well in a more natural-looking pattern. 
No matter which type of highlights you choose, highlights add a lot of interest to your color and are a fun way to change up your look without committing to completely new hair color. The different shades add dimension to your color and help your hair reflect light differently for an eye-catching look. And because they can give you that sun-kissed look, highlights are the perfect addition to your summer style! 
Want to add some highlights for a new summer hair color? Make an appointment today at Salon Naman and let our expert colorists help you choose the perfect highlights to complement your personal style. You'll find us at 1445 Riverchase Blvd. Suite 104 in Rock Hill, SC. Schedule your hair color appointment online or call (803) 327-9242 to reserve your hair color appointment. To get the professional home haircare products you need for your new highlights, order from our online store for quick delivery or pick-up!