Have The Hair You Dreamed Of For All Of Your Holiday Photos
December 01, 2021
As we head into the busy holiday season festivities and social gatherings abound. As you run about shopping, planning, and prepping for family dinners, office parties, and celebrations with friends don't forget to plan ahead for all of the holiday photos. Of course, you want to make sure you look your best as you capture all of your memories for future generations, but who has time among the hustle and bustle to devote to hours of styling elaborate hairstyles? Aqua Hair Extensions offer you the styling versatility that you need to have the hair of your dreams for all of those holiday photo ops. 

About Aqua
Aqua Hair Extensions are made with 100% full cuticle Remy human hair. These extensions last because only the best hair is selected and then processed with a patented technology that is unique to Aqua. The hair is carefully handled to ensure that it stays in the downward position that it would normally grow in. This careful attention to detail is what sets Aqua apart.
Types Of Extensions
There are 6 different application techniques to choose from to help you meet your holiday hair goals and to best suit your lifestyle.
Hand Tied- If you're looking for the thinnest, most comfortable wefts there are, Aqua Hand Tied Wefts are just the right choice for you. As the name suggests these small thin wefts are made by hand-tying individual sections of hair together. Hand-tied extensions take less than 2 hours to apply and wear for about 6-8 weeks.

Tape In- Aqua Tape-Ins are so thin which makes them perfect for flexible placements. You'll have a seamless look that is absolutely effortless. Tape-Ins are the fastest extensions to apply and take less than one hour for a full application. Tape-Ins usually wear for 6-8 weeks.
Keratin-Infused- Our keratin bond is pure 100% Italian Keratin. There aren't any fillers or plastics to worry about. This bond gives the extensions 360-degree movement and blends seamlessly into your hair with a natural matte finish that is extremely durable. These extensions take a little longer to apply at up to two hours, but they wear longer as well - 4-6 months in fact. That's definitely worth a little extra time in the chair.  
Machine Weft- This kind of weft is probably the most versatile and easily customizable. They are created by sewing three thin wefts together that can then be cut to fit or deconstructed to get the right density.  Aqua Machine Wefts take less than two hours to apply and wear for 6-8 weeks
Clip In- Clip Ins are the ultimate choice for those who crave flexibility and variety in their style. With this extension system, you can have your look transformed in mere minutes, less than 15 minutes to be exact. Wear them as long or as short a time as you prefer, and you can even have your color changed on a whim. Clip Ins are limited to 20" long but can be cut to any shorter length that you wish.
Cylinder- This method of applying extensions doesn't use any heat. Instead, tiny cylinders or silicone beads are used to attach the extensions with a special tool, strand by strand. Cylinder extensions can take up to 3 hours to apply and wear for 4-6 weeks.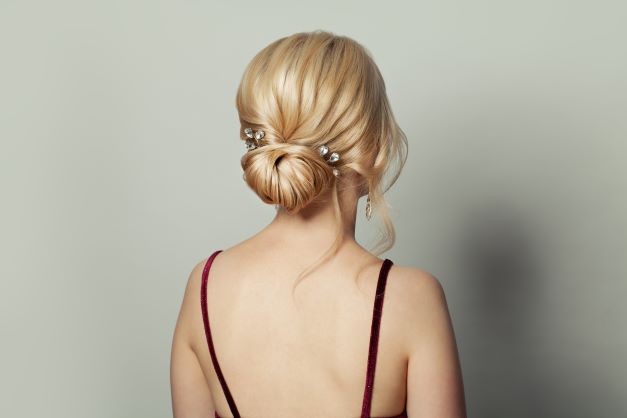 Color Choices
With all of the color options to choose from, there is sure to be something for everyone to compliment every hair color.

Balayage- These extensions have a darker color on top at the root and then blended throughout lighter color in the remaining length of the hair. The result is a naturally highlighted look like you would get in the sun.
Rooted- Rooted extensions have a darker color section on the top 2-3" which allows them to blend seamlessly with your own roots.

Naturals- Naturals are just that, an array of natural blacks, browns, blonds, and reds to perfectly compliment anyone's hair color.

Duo Tone- This color technique uses two complementary colors, one lighter and one darker. These two shades alternate throughout the wefts for a beautifully balanced look with tons of dimension. 
Ombre- Ombre extensions also use one darker and one lighter color. The darker color in the top half gradually transitions to the lighter color in the bottom half.

Crazy- These extensions are in solid fantasy colors like pink, lilac, and teal which are fun and bright.

How To Care For Your Extensions
Aqua extensions can generally be reused for about a year with the proper care. It's important to avoid shampooing for the first 48 hours after your extensions are applied, then you should shampoo no more than three times per week with a protein-rich sulfate-free shampoo. Never scrub or rub vigorously. Apply conditioner only from the midshaft down to avoid damaging the bonds with any oils in the product. You'll want to detangle your extensions twice each day before wetting your hair with a boar bristle brush working gently from bottom to mid-shaft.

Salon Naman has Redken, Pureology, and Kerastase sulfate-free products, and your stylist will give you the perfect hair care regimen for your extensions. Never go to sleep with wet hair and remember to loosely braid your hair before bed to avoid tangling and damage.
You can easily have the hair you dream of for all of your holiday photos. Whether you want to add length, and volume, or even try some crazy, festive new colors, Aqua Hair Extensions can make your holiday hair dreams come true. Reserve your appointment today at Salon Naman and we will give you the perfect hair you once only dreamed of. You'll find us at 1445 Riverchase Blvd. Suite 104 in Rock Hill, SC. Schedule your consultation online or call (803) 327-9242 to reserve an appointment. We look forward to helping you achieve the hair of your dreams or the holidays.